Restorative Yoga is a style of yoga that focuses on the use of props, blankets and bolsters to fully support the body so that the body can relax. This style of yoga is beneficial for those who are experiencing stressful life situations, anxiety, having troubles sleeping, or issues relating to various organs in the body. Restorative yoga is also a perfect complement to more active styles of yoga. When the body is relaxed and supported the body returns to its normal state, where it can function properly. In a restorative class, postures are held for longer periods (up to 20 minutes) where the body is supported by the use of props. It is a very relaxing style of yoga which leaves you feeling refreshed and renewed.

Hatha yoga is a style of yoga that focuses on a series of physical exercises (asanas or postures), designed to build muscle strength, flexibility and balance in the body. The series of postures are linked with breath in order to still the mind. Anne teaches gentle hatha, hatha flow, and other hatha yoga classes which can be modified to suit the pace and level of energy of the student or class.
​
Yin yoga is a style of yoga which primarily focuses on the joints, ligaments and connective tissues. Poses are held for a duration of 5-10 minutes. This style of yoga is a slower, more internal style of yoga. By allowing the muscles to relax in the poses, and stretching out joints, ligaments, we strengthen them over time. In Anne's yin classes, poses are sequenced to open various meridian lines in the body. By opening up these meridian lines which link to various organs in the body, we can improve our overall health and well-being.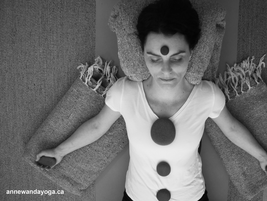 HOT STONE RESTORATIVE YOGA WORKSHOP
Join Anne Wanda Tessier for a deeply relaxing and healing Hot Stone Restorative Yoga practice. Restorative yoga is already nurturing for your mind and body, imagine including the added benefit of hot stones. The heat from the stones has a balancing and healing effect on our bodies and systems. Anne will guide you through a nurturing restorative practice and will gently place volcanic mineral stones on your body in each long-held pose. Along with the use of aromatherapy, this promises to be a luxurious, relaxing and healing experience. You will leave this session feeling soothed and nurtured.
Spaces limited. Wear comfortable clothing. (I.e. Yoga pants, and thin long-sleeve top) Cost: $55 per participant. ($60 day of ) / 12 spaces available. ​
---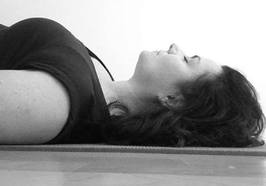 I'm HERE for the SAVASANA WORKSHOP
In today's fast-past lifestyle more and more people are finding difficult to be still. Join Anne for a two hour workshop dedicated entirely to the pose Savasana, otherwise know as corpse pose. Learn about the benefits of this posture as well as the effects on the body and mind, including the effects on the organs and the nervous system. We will explore various options for savasana including modifications with the use of props to fully support the body as well as options without the use of props. Delve into the art to being still and discover how you can take this challenging pose and make it one our your most blissful ones!
Cost: $35.00 per participant. Option to bring an eye pillow. ​
---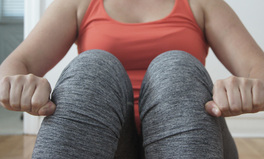 ​MERIDIAN YOGA WORKSHOP
Meridian Yoga is a style of yoga that helps to balance and activate energy (Qi) in the 14 major meridians in the body. When the energy is balanced, this allows for greater physical health, flexibility, mental clarity and joy. The workshop begins with a brief description of the meridian lines linked to the organs of the body. You will then be guided through a meridian flow sequence to open up the flow of energy throughout the body. The series of yoga poses will balance the major meridians in the body, in order to improve the health and function of the associated organs. In this workshop you will learn key meridian points in the body, various massage and tapping techniques, and learn tips on how to energize the body. Cost: $35.00 per participant.
---
PREVIOUS EVENTS:
​Hot Stone Restorative Workshop.
2 Hr workshop at PranaShanti Yoga Centre, April 11, 2017
Settling into Savasana
2 Hr workshop at The Yoga Barn, Ubud, Bali. March 18, 2017
Exploring Restorative Poses I
2 Hr workshop at The Yoga Barn, Ubud, Bali. March 19, 2017
Exploring Restorative Poses II
The Yoga Barn. Ubud Bali, March 20, 2017
Restorative Yoga Teacher Training.
5 Hr component to 200Hr Yoga Teacher Training
with Laurie Howe, PranaShanti Yoga Centre. Feb 26, 2017
Restorative Yoga Teacher Training
30 Hour training at PranaShanti Yoga Center Feb 3-5, 2017
Hot Stone Restorative Yoga Workshop
2 hour workshop at PranShanti on Jan 18 , 2017
Hot Stone Restorative Yoga Workshop
2 hour workshop at PranShanti on Dec 16 , 2016
Hot Stone Restorative Yoga Workshop
2 hour workshop at PranShanti on Nov 15 , 2016
Hot Stone Restorative Yoga Workshop
2 hour workshop at PranShanti on Dec 6, 2016
Hot Stone Restorative Yoga Workshop
2 hour workshop at PranShanti on Oct 18, 2016
Hot Stone Restorative Yoga Workshop
2 hour workshop at PranShanti on July 26, 2016
Manifest your Bliss Workshop
2 hour workshop at PranaShanti on June 7, 2016
Hot Stone Restorative Yoga Workshop
2 hour workshop at PranaShanti on June 16, 2016
Hot Stone Restorative Yoga Workshop
2 hour workshop at PranaShanti on May 12, 2016
Restorative Yoga Training
15 Hour Training at PranaShanti Yoga Centre May 4-6, 2016
Meridian Yoga Workshop
2 hour workshop at Pranashanti on April 9, 2016
I'm HERE for the SAVASANA
2 hour workshop at Pranashanti on Feb 3, 2016
Use of Props in Yin and Restorative Yoga
3 hour workshop at Pranashanti on March 5, 2016
I'm HERE for the SAVASANA
2 hour workshop at Pranashanti on Nov. 7, 2015
Meridian Yoga Workshop
2 hour workshop at Pranashanti on Nov 14, 2015
I'm HERE for the SAVASANA
2 hour workshop at Pranashanti on Sept. 23, 2015